The Krown Jewel of the Eastern Province
…and…
About the Business of Taking Care of Business
A Message from the Chapter Polemarch
---
Greetings,
I would like to welcome you to our chapter, The Eta Sigma of Kappa Alpha Psi Fraternity, Inc. at the University of Virginia. Thank you for taking the time to visit our site and I invite you to get to know our chapter!
As Brothers of Kappa Alpha Psi, the Eta Sigma Chapter specifically, we hold ourselves to high standards. The fundamental purpose of Kappa Alpha Psi is "achievement in every field of human endeavor." The importance of achievement is demonstrated by our accomplishments on grounds, but also by the successes of Brothers after they have graduated. Our chapter motto is "About the business of taking care of business." After a short period of time with any Brother, you will find that this is true. You will see us around grounds excelling in the classroom, serving the community, and being actively involved in other organizations.
Please take your time to look through this site and get to know what our fraternity is about. Our chapter specifically, does its part in upholding the fundamental purpose of the fraternity as we have been selected as National Chapter of the Year six times! In this chapter alone we have outstanding achievers: our charter members integrated the football team here at the University of Virginia and the current CFO of Major League Baseball is an Eta Sigma Nupe. Feel free to reach out to any one of us if you would like to know more about us. You will see that we are all highly motivated men that have a passion for achievement and service.
Welcome again, and we look forward to an exciting year in 2019-20!
Sincerely,
Joshua N. Gravely
Polemarch
---------The Gallery---------
Check out these Nupe Flicks from all era's
View

»
---------Our History---------

This four-time International Chapter of the year has a storied past
Learn More

»
---Meet the ΗΣ Brothers---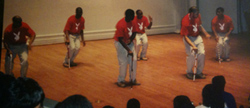 The ΗΣ Nupes are involved in various activities and programs on grounds
View

»
© Copyright The Eta Sigma Chapter of Kappa Alpha Psi Fraternity, Inc.